ERICK MERINO
ERICK MERINO was born in Mexico City in 1971. He has directed and performed in several theatrical productions. His work in the arts has been presented in Japan, Canada, Mexico, Chile, Venezuela, the United Kingdom, Finland, and the United States. His repertoire includes opera, operetta, musicals, dramas, comedies, magic spectacles, and performance art. He has professionally translated several plays and musicals into Spanish. The National Press Circle of Mexico has awarded him with two Palmas de Oro and two Sol de Oro for his work in the arts. He is presently the president of Teatro de Papel and Carpa Geodésica, and director of the Centro Experimental de Cultura La Moira.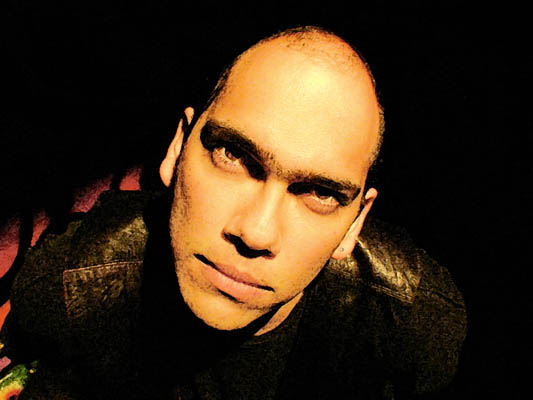 His studies include:
* Drama at St.Michael's University School in Canada.
* Stage, Costume, Lightning Design and Advanced Directing at Harvard University.
* Licenciatura in Communication Sciences at Anahuac University
* MA in Performance Studies at Central School of Speech and Drama in England.
* Maestría in Semiotics at Anahuac University in Mexico.


Author of the following plays or musicals:
1979 Los Infantes de París
1985 Arthur's Secret Dreams (coautor y composición musical) : Canadá
1986 Colourless
1989 Life Flashes... : Canada / USA
1991 Burning Desire : USA
1991 Finesse : USA
1993 Pasarela :México
1993 La Reja :México
1995 Live Coverage - Live : Reino Unido
1997 La vida parpadea... (traducción de "Life Flashes" con Susana Moscatel)
2001 The Witness

Translator and co-translator into Spanish of the following plays or musicals:
1998 "Nosferatu - el vampiro"
1999 "Rent"
2000 "Los monólogos de la vagina"
2001 "Defendiendo al cavernícola"
2002 "Proof"
2003 "¡Libertad!"
2003 "Los exonerados" (draft)
2003 "Frankie y Johnny: Amor en el claro de luna"
2004 "Claudia" (adaptation)
Screenplays:
1986 Lifescore
1990 Yo soy, Tu "eres"

Radionovels
1989 El monstruo de Firenze
1993 Marquito

Shortstories
1982 Un viaje inolvidable
1989 La Moira
1989 Goto 50
1989 Mi sueño realizado en la ciudad. Y vivirlo a diario.
1990 La última carta
1993 El campamento salado
1996 La magia está en el cuerpo. No en el alma.
1996 Por los oídos no
1997 Anarkia
2001 Pobre Ingenuo (mención de honor: Instituto Cultural Latinoamericano; Primer Concurso Internacional de Poesía y Narrativa)

Autor of the following publications related to Theory & Stage:
1994 Performance Myths and Combined Fabrications
1998 ¿Qué es el performance?
2001 Finding Your True Magic
2001 El Cuervo: une mise en scène
Buy Erick Merino's books at Amazon.com

Limited Edition - FINDING YOUR TRUE MAGIC
¿Qué es el performance?
or cheaper from
Editorial La Moira
Finding Your True Magic

---